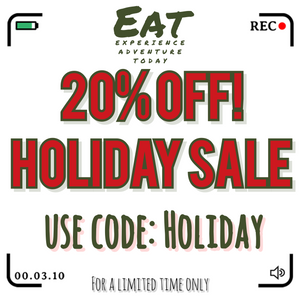 Something for everyone!
Grab some swag and share your adventures on social media by using the hashtag #ExperieinceAdventureToday and tagging the EAT account!
Save big with discount code "Holiday" for 20% off!
But wait, there's more! Spend over $100 and get FREE shipping in the United States! No code needed.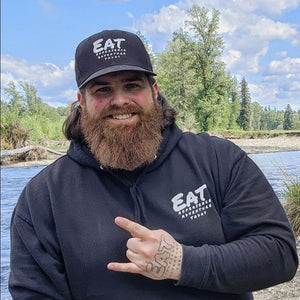 What is EAT?
EAT. Experience Adventure Today

Originally created as a YouTube channel in May 2021, the EAT name quickly grew into a community and a lifestyle brand that embodies adventure, fun and making the most out of every day! Striving to provide family-friendly entertainment, community and resources for individuals to learn about events, hobbies/activities, products and more! 
EAT has a heavy presence in the automotive/powersport industry, attending events that range from show trucks to exotic cars, off-road racing to drifting, overlanding to boats, snowmobiles and side-by-sides. But that's not all! Adventures also include rodeos, fishing, travel and more!

Experience. (verb) encounter or undergo (an event or occurrence).

Adventure. (noun) an unusual and exciting, typically hazardous, experience or activity.

Today. (adverb) on or in the course of this present day.
~USMC veteran owned~
Stay in the loop
Discount codes, new products, sales and more! Directly to your inbox.